Award to Sachsenring Bike – Focus Money awards the brand as "Customer's Favourite 2019" with grade silver
Sangerhausen, 11.06.2019, the young brand Sachsenring Bike has only been existing since the acquisition of the former MIFA in August 2017.
Less than only two years later, Sachsenring Bike is now awarded Silver in the current edition of the Focus magazine in the category "Bicycles & Mountain Bikes" as "Customer's Favourite 2019".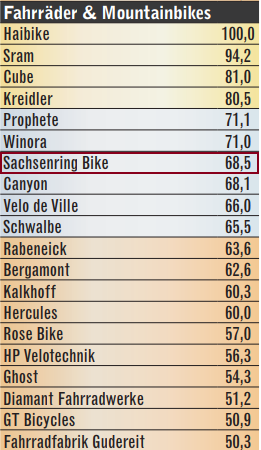 About 20,000 brands from 250 industries were examined in this study. The evaluation is based on data from the web monitoring tool Web Analyzer. This tool uses a semantic search to monitor and evaluate tens of thousands of online messages and millions of social media sources and other online sources.
A total of 39 million customer statements regarding price, service, quality and reputation have been recorded and evaluated.
Source/Picture and words: Focus Magazin/Edition Mai 25th, 2019
"The basis for entrepreneurial success is provided by strong brands," Stefan Zubcic says, CEO and owner of Sachsenring Bike Manufaktur GmbH. "This success is the result of hard work that we have earned as a company," Stefan Zubcic adds.
"I am proud of my employees and the results we have gained together, knowing well that we must go on struggling and pushing our efforts to consolidate our current position in the market," Zubcic explains.
In 2017, the company started with no orders and a team of 135 employees. By extending their range of models and by expanding further business divisions, it now engages 180 employees. According to their own information, Sachsenring Bike Manufaktur GmbH will be in the black in 2019.